Explore the resources below to see what ops excellence looks like in action
Control Food Costs and Track Inventory
Five Guys decreased their food cost variance to less than 1% across 1,700+ locations within a year of using Crunchtime.
Simplify Scheduling and Compliance
Using Crunchtime in 90+ locations, Uno cut labor costs by 2% and maintained compliance - even when they had fewer guests during the pandemic.
Execute Tasks and Audits Consistently
Chipotle uses Zenput by Crunchtime across 3,000+ restaurants to ensure quality and consistency at scale, with 100% visibility into team execution in each location every day.
Effectively Train and Develop Employees
Miller's Ale House uses Crunchtime to easily assign effective and compliant training in just one click, eliminating training-related wage issues and keeping proprietary info secure.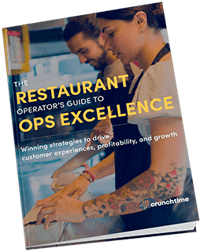 For a complete list of winning strategies and examples from other multi-unit restaurants, download The Restaurant Operator's Guide to Ops Excellence.