Live Webinar:
Operations Execution Product Tour
Thu, November 16, 1:00 PM ET /10:00 AM PT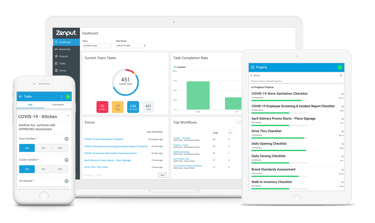 In today's environment, more than ever, rapidly-changing policies and new consumer expectations make finding new ways to operate successfully more important than ever.


Join our live product tour to learn how top operators like Chipotle, Domino's, sweetgreen, and Parker's use Zenput to turn strategy into action faster and equip their teams to deliver on it.


In this 30 minute live demo, you'll see how everyone from the store, the field, and HQ use Zenput to automate how operating procedures, public health and food safety protocols, LTOs, and other key initiatives are rolled out and enforced. Join us!

Explore the value and capabilities of the Zenput operations execution platform

Share a few contact details and we'll get you registered