LINE CHECK
A tablet application that can quickly guide team members through important restaurant food safety checklists to ensure that each item served meets your brand's preparation and inspection standards. Automatic push-notifications for checklist completions and failures ensure every food item is properly examined and measured against established restaurant standards.
View all your location's daily Checks in one simple list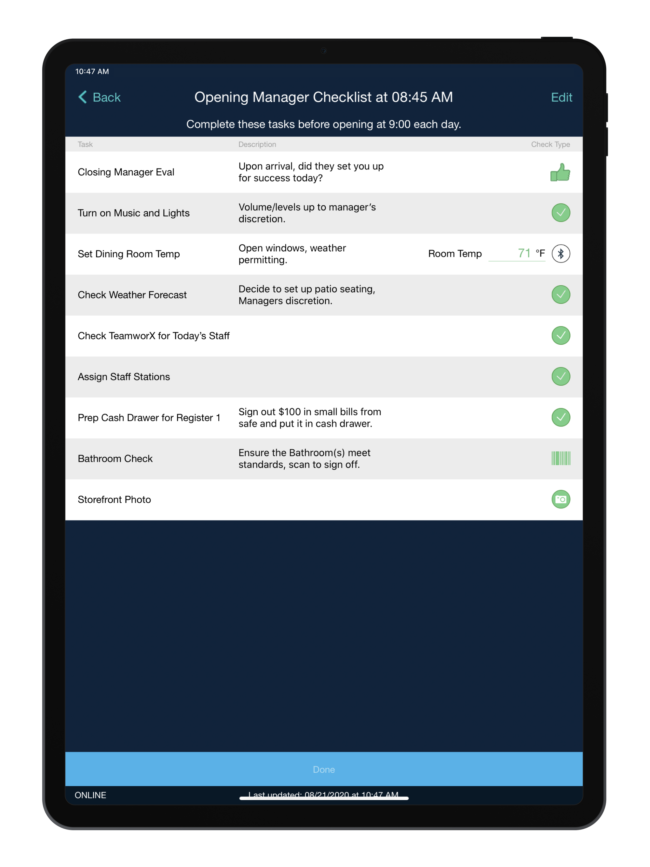 Checklists organize tasks, track their completion, and enforce Standards of all types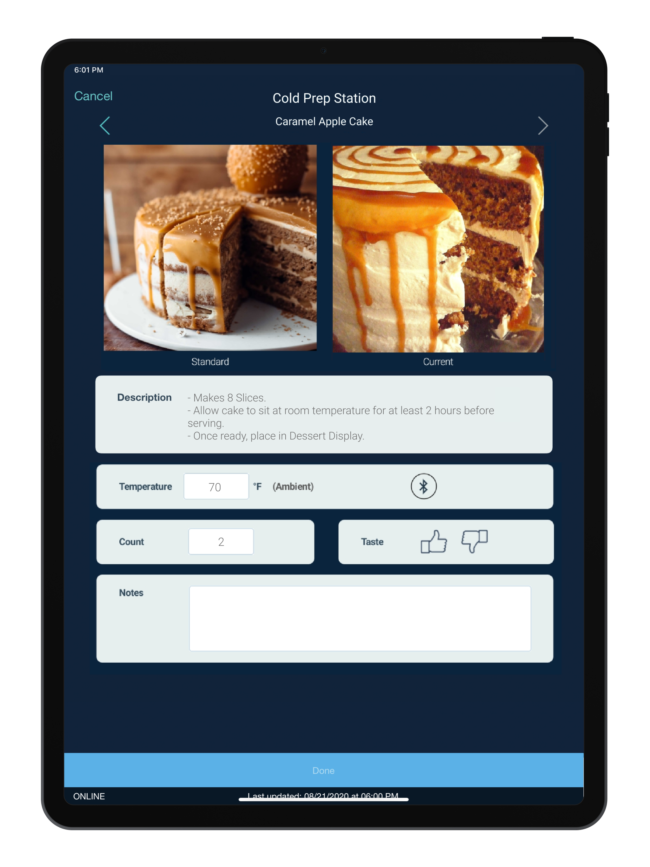 Product Checks ensure Food Safety and presentation consistency
Failed checks trigger Email notifications and details are tracked in the Alert Log and CrunchTime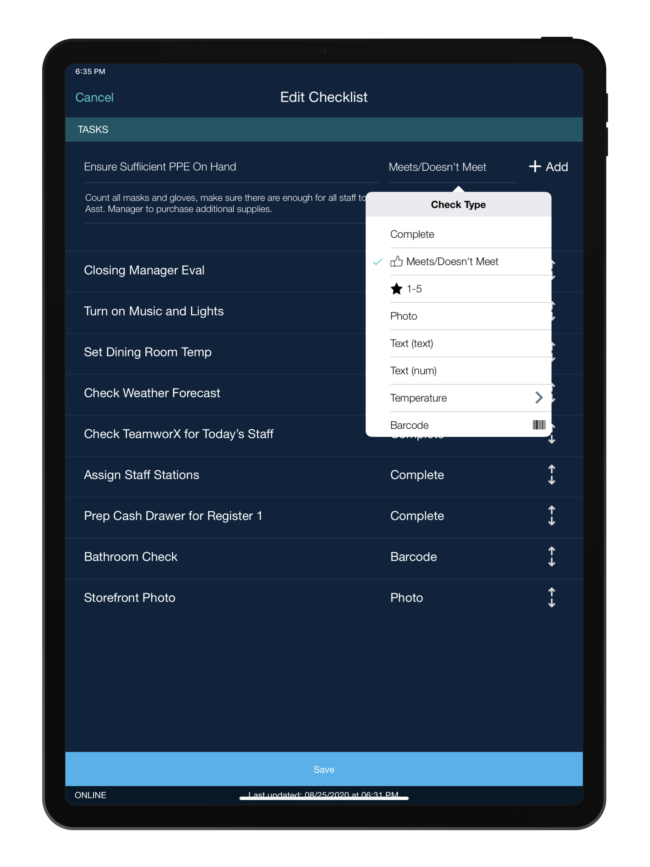 Edit Checks or create New Checks for your location directly in the app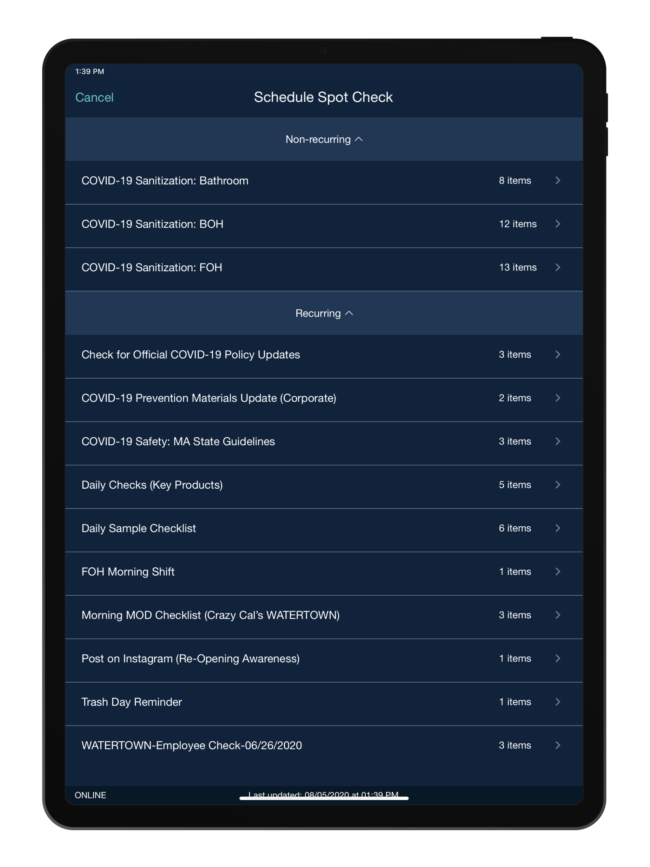 Spot Checks re-run a failed Check, plan Corrective Action, or standardize processes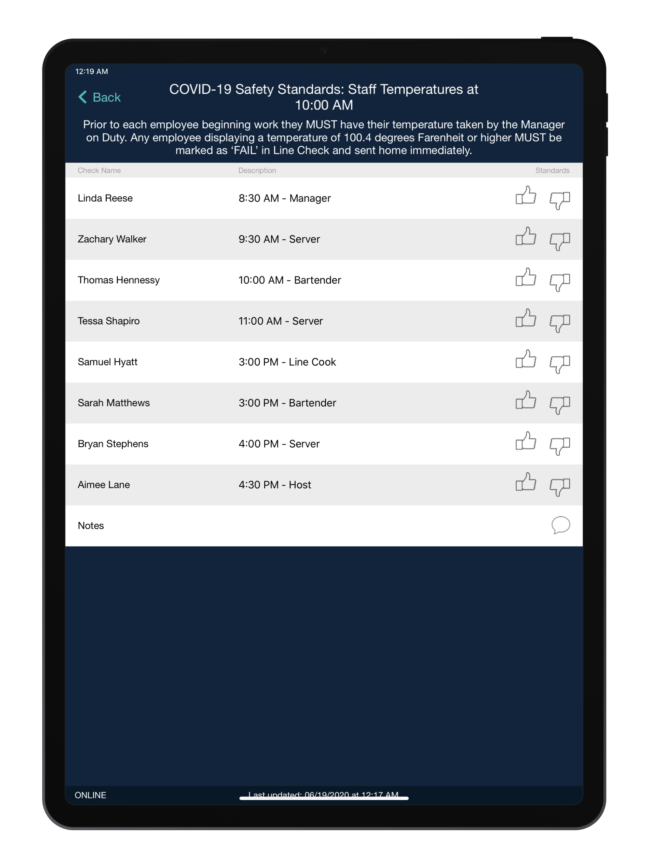 Employee Checks track and ensure staff health before each shift
Configurable check lists
Check the most important health and safety metrics for each item in your inventory
This ensures that not only all standard safety metrics are checked, but that food items with unique safety measures are are also checked. Those tasked with checking food safety can proceed with confidence that all critical measures will be accounted for
Compliance tracking and audit trail
Keep track of all safety processes related and know who checked what measure and when
This helps ensure all food items are in compliance with safety measures. When food served to the customer does not meet quality or safety standards, the audit trail allows managers to easily identify any instance where safety measures were not properly checked
Alerts for standards and violations
Get notified whenever you are in violation of food safety standards so you can fix the problem before serving unsafe food to guests
This will help you stay clear of health code violations and guest criticism. Knowing when any food is in violation and fixing the issue immediately reduces the risk of serving unsafe meals and helps your restaurant maintain compliance
Flexible tracking
Track key quality indicators that are unique to each item like temperature, look, or count
Meet brand standards to ensure your guests enjoy a quality dining experience
Bluetooth thermometer integration
Easily check storage temperatures for menu items that require specific climates
Managers will know immediately when a food item is not safe if it is stored at the wrong temperature
Spot Checks
Quickly schedule ad hoc follow-up checks to ensure any failures or areas of concern are addressed
Now managers can actively adjust to any failures during a shift, ensuring standards are met and future mistakes are avoided
Equipment Checks
Checklists can be created at a Corporate or Local level to ensure preparations are consistent, standards are met, and staff are in-sync across all locations
The ability to create checklists and apply them to all locations in a specified hierarchy helps to ensure the delivery of a consistent guest experience over time and across multiple locations
Available for iOS and Android tablets.