4 Ways Inventory Management Helps Scratch Kitchens Reduce Food Costs
Mar 23, 2023 Inventory Management: Food Costs, Ordering, Prep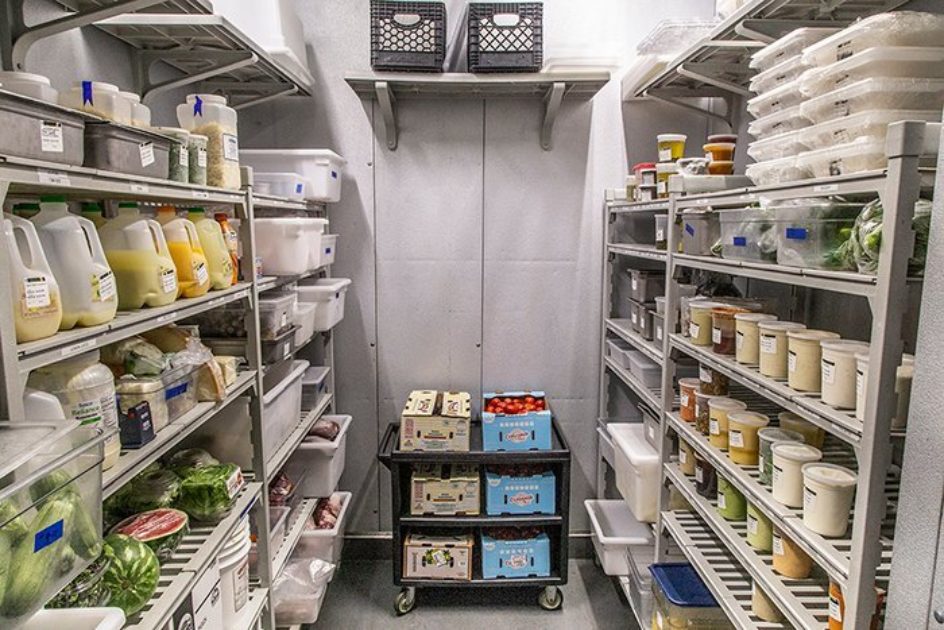 Managing inventory and food costs can be a tedious and time-consuming process and can be even more difficult for scratch kitchens - restaurants that create their menu items entirely out of individual ingredients. Scratch kitchens often find it hard to gauge actual food cost, as many components go into each recipe, and market costs often change, causing variability that is difficult to measure.
Why accurate tracking matters
Food cost is a significant operating expense for restaurants, with roughly a third of total restaurant expenses dedicated to purchasing food, ingredients, and other items needed to run the restaurant, like to-go containers. To help manage food costs, restaurants primarily focus on accurately tracking food and ingredient usage, as well as ensuring alignment with the food sold.
It is essential to understand what is actually going on with ingredient and product usage in each restaurant to identify and correct practices that are driving up variances. There are many reasons that theoretical and actual food costs can be off, including wrongly recorded ingredients, employees over-portioning, vendor order discrepancies, and even theft.
Restaurants historically run on thin margins, so even a one percent improvement in food cost can result in major changes to profitability and, in some cases, can make or break restaurants.
Why inventory management is challenging for scratch kitchens
Scratch kitchens often use the same ingredients in multiple recipes, like flour and eggs for baked goods. Using the same ingredients in multiple dishes can be a great way to reduce food waste while cutting down on food preparation labor for restaurants. However, it can take time to accurately measure food costs and waste when using this tactic. Scratch kitchens often find it difficult to gauge actual food cost, as many ingredients go into each recipe, and market costs often change, causing variability that is hard to measure.
Determining food cost in scratch kitchens is more difficult than in kitchens that use pre-made components simply because more ingredients need to be tracked throughout the process. For example, many restaurants receive their bread from an outside vendor, whereas a scratch kitchen will bake its own bread each day. This adds multiple stages to the process, providing more opportunities for flour to be spilled, bread to be burnt, or ingredients to be over-portioned, which can eat away at food costs.
When determining the recipe cost for a sandwich, each ingredient must be considered in order for the total to be accurate. From the flour in the bread to the eggs in the mayonnaise, minor fluctuations in ingredient usage and cost can result in large discrepancies between actual versus theoretical (AVT) food costs.
Scratch kitchens also include nested or sub-recipes in their menus, where one recipe is a component of a larger recipe. For example, a kitchen may make a vinaigrette dressing to pair with their salad. The vinaigrette dressing will have its own recipe, and the salad's recipe will contain the completed vinaigrette. Nested recipes can be more challenging to track because the kitchen may make a batch of vinaigrette once per week because it has a longer shelf-life, whereas the salad itself gets made fresh daily. Meanwhile, sub-recipes are commonly used in multiple menu items, as the vinaigrette for the salad may also be on a sandwich.
Because scratch kitchens use individual ingredients, waste tracking becomes more complicated. Wasted ingredients are more difficult to track than pre-prepared goods. Consider if flour is spilled - it is more difficult to accurately calculate how much was actually wasted than if a bun from a bakery is dropped, which is easily tracked as one single item.
How to improve inventory management for scratch kitchens
1. Implement an inventory management system
Implementing an inventory and food cost management system is the first step toward better food costs. These systems can be beneficial in calling out which inventory items are missing and can rank discrepancies by which products are costing the restaurant the most money. Choosing software that can track individual ingredients in recipe creation and food waste management can help reduce actual versus theoretical food variance and associated costs.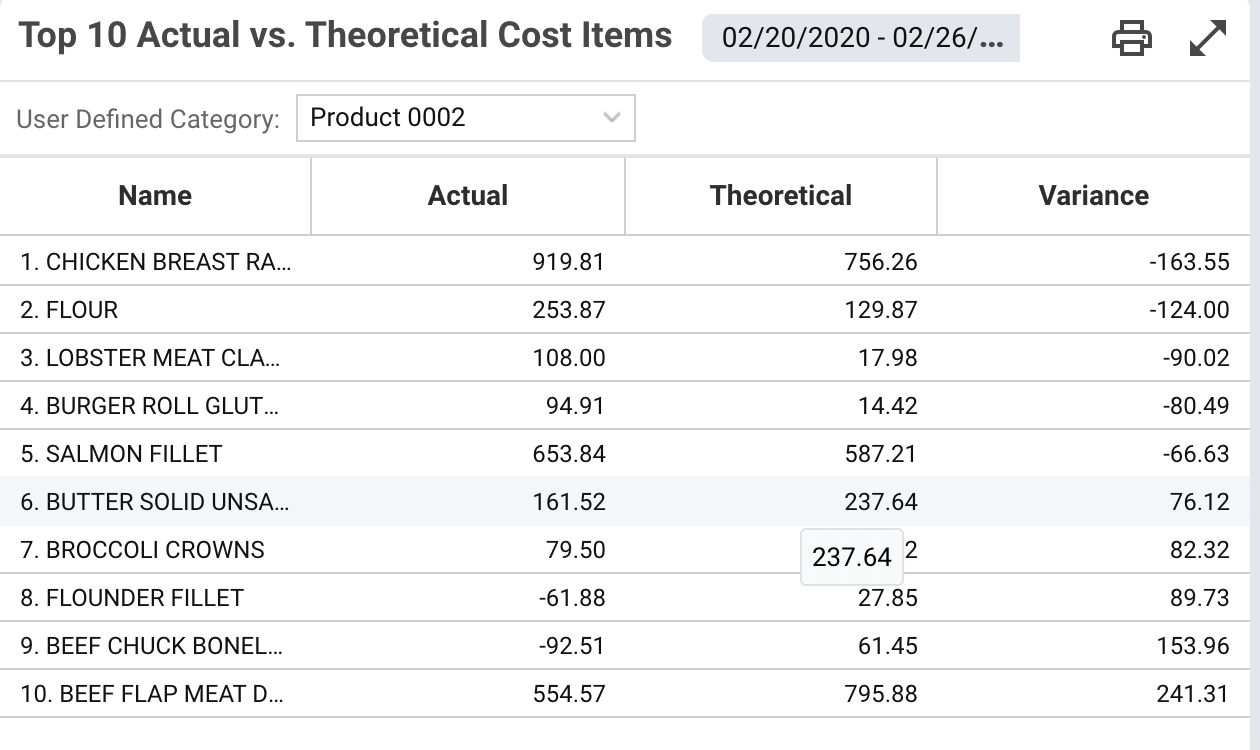 Restaurant inventory management systems can also help reduce human error during the inventory tracking process, as some integrated systems eliminate the need for pen and paper as they connect with a tablet or mobile device, so inventory only needs to be logged once rather than on pen and paper which must then be transferred manually to a computer.
When using such a system, you'll have the option to set due dates for inventory tracking based on the restaurant's needs. High-cost items like proteins should be tracked as often as possible, whereas low-cost items like paper goods can be tracked less frequently.
2. Build waste tracking procedures
Waste tracking can be complicated in scratch kitchens, so an integrated solution is vital. One thing to look for in waste tracking software is the ability to either log individual ingredients (like three eggs or one cup of sugar) or finished menu items (a serving of soup or a bacon cheeseburger).
Set up a process for waste tracking so that teams know whose responsibility it is to enter waste into the system, and teach teams how to count waste correctly. Choose standardized units to track different items and ingredients so that logged waste can be more accurate. Many restaurants use waste buckets or bins to store wasted products throughout a shift, which are then looked through and counted at the end of the day.
3. Evaluate discrepancies
Operators should decide a range for this variance that fits the restaurant's goals, like plus or minus one percentage point. This way, in-store managers can check actual versus theoretical food variance to ensure that their food variance stays within the desired threshold each week. If AvT food variance is off too much, there is usually a simple reason why, such as product being miscounted or mislogged, or a transfer to or from another store that was not entered. When an in-store manager sees the discrepancies the inventory system calls out, they can troubleshoot and quickly remedy the situation.
Weekly food cost and variance should be discussed with store and above-store managers, and issues with food variance should be highlighted. Suppose many stores are experiencing similar problems, like one ingredient having a large discrepancy across multiple locations. In that case, there may be an issue with the vendor, a recipe with the wrong quantity entered into the system, or an issue with recipe calculations.
Even after an inventory management system is implemented and store-level waste tracking procedures are in place, it is vital to evaluate the inventory results continuously. The longer it takes to recognize an issue with inventory management, the harder it will be to get to the source of the problem.
4. Set rewards
Motivating teams to stay on top of inventory management and to keep food variance within a desired threshold is an important step. If teams are not motivated to meet their goals, food cost will be less accurate, and it is more likely that product will be wasted. Providing the stores that meet food cost goals with bonuses or gifts each quarter is a good way to motivate teams. Make sure to communicate the potential rewards and often remind teams how to conduct inventory and waste procedures best so that the restaurant can excel.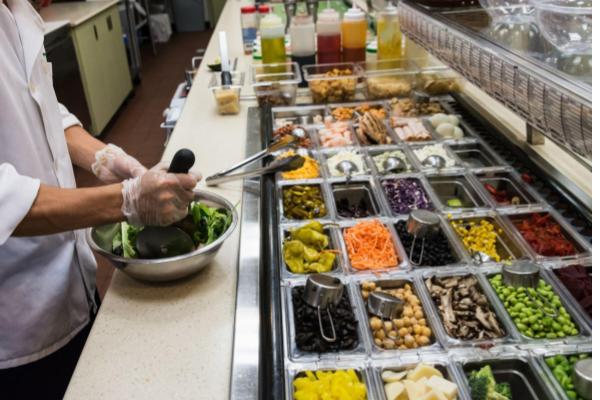 Inventory management is a continuous process, especially in scratch kitchens where recipes change. Once a restaurant controls its food cost, it does not mean the job is done, as each shift will present new challenges. To learn more about Crunchtime's restaurant inventory management software and how it can help restaurants reach operational excellence, visit crunchtime.com/inventory-management.