RLC 2023: 4 Takeaways from Top Restaurant Chains
May 05, 2023 Ops Excellence: Profitability, Customer Experience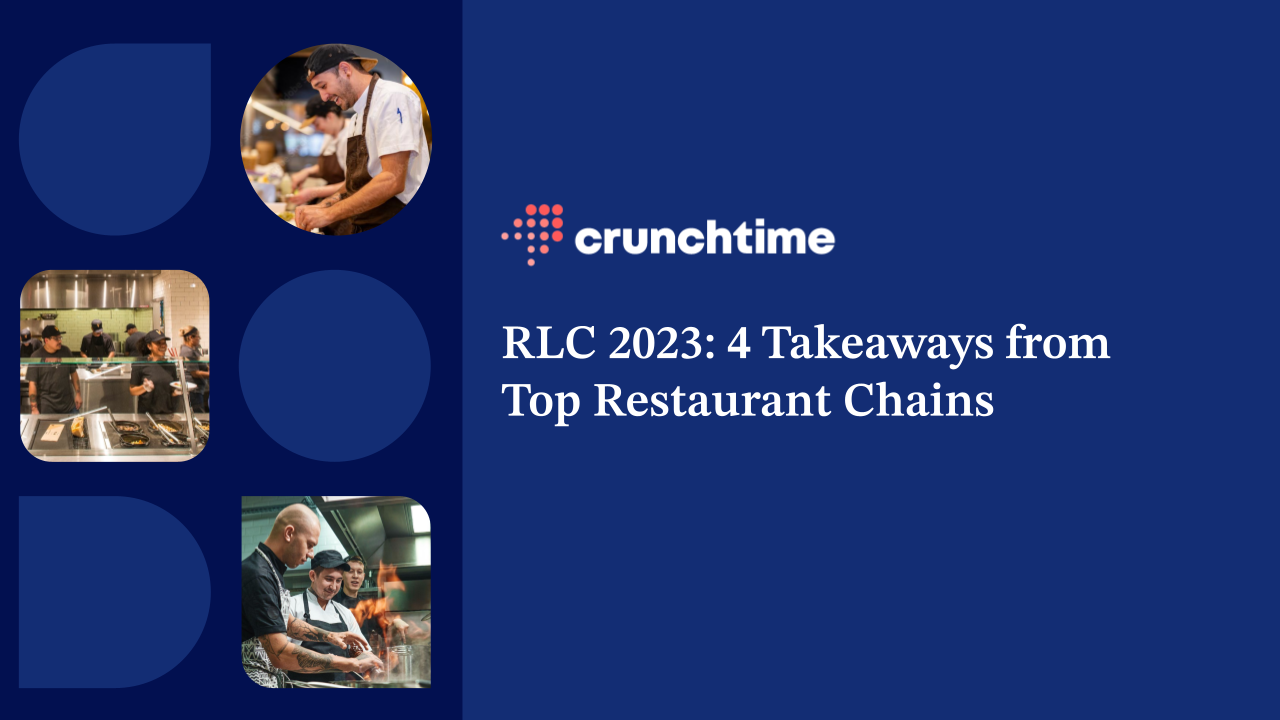 From menu items and policies to customer preferences and even restaurant staff, restaurant operations are continuously evolving and shifting, and usually change in an instant. With the speed of change in the industry, restaurants constantly face a range of new challenges that make managing day-to-day profitability, brand standards, and the overall customer experience across locations more difficult than ever before. At this year's Restaurant Leadership Conference, Crunchtime facilitated a panel discussion among technology and operations leaders from top restaurant chains Jersey Mike's, FAT Brands, and Freddy's Frozen Custard and Steakburgers, who navigate these challenges and put themselves into a position to grow and succeed in today's complex environment.
Here are our top takeaways from the session:
1. Inventory Management: Use AvT data to ensure recipe quality and reduce food variance
Top operators recognize that the value of inventory management and food variance tracking does not just mean lowering food costs as much as possible. Instead, they aim for each restaurant's food variance–the amount of food that is used compared to what should be used– to fall within a set range. If the variance is too high, then it means that food is being wasted, over-portioned, or lost. And if the variance is too low, the store is likely using less product than expected, which means that customers are being shorted.
"If your customer doesn't get value, they're not coming back. We kind of flipped it around a little bit and said, let's not target that zero variance. Let's not worry about every day, every three or four cents that we're saving.
Let's make sure we're providing quality. So by looking at our food costs, we can make sure that we're providing quality products. With the variances, you can see if a particular store or a particular person is not making the sub the way we want it. And if we don't make the sub the way it's supposed to be–if it's not a perfect sub–our customers are not coming back."
-Scott Scherer, Chief Information Officer, Jersey Mike's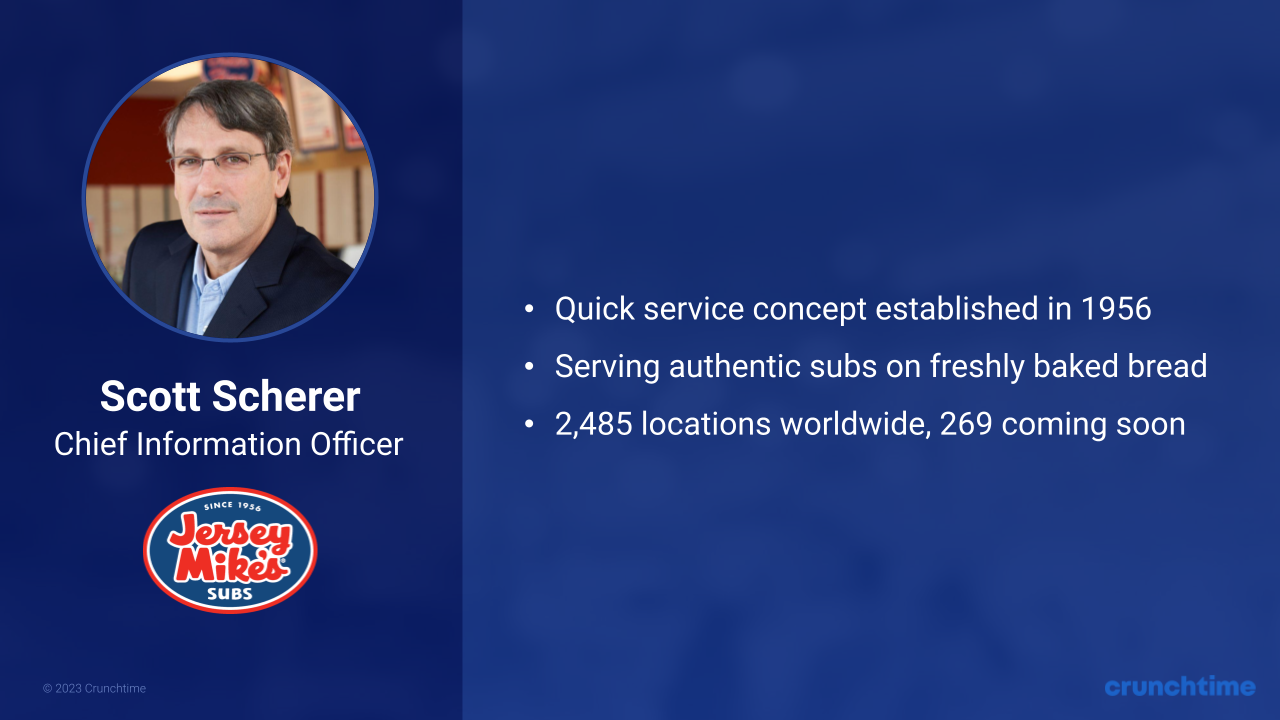 2. Labor Management: Entice workers and improve efficiency with tech
Employees in the restaurant and service industry have hundreds of brands to choose from when it comes to selecting the place they want to work, as most restaurants always have openings available due to high turnover. In order to attract applicants, hire them, and keep them for the long run, it is important to consider the employee experience when choosing technology and building procedures.
"I think the biggest problem that we have right now in our industry is it's so easy to move to another brand."
-Michael Chachula, Chief Information Officer, FAT Brands, Inc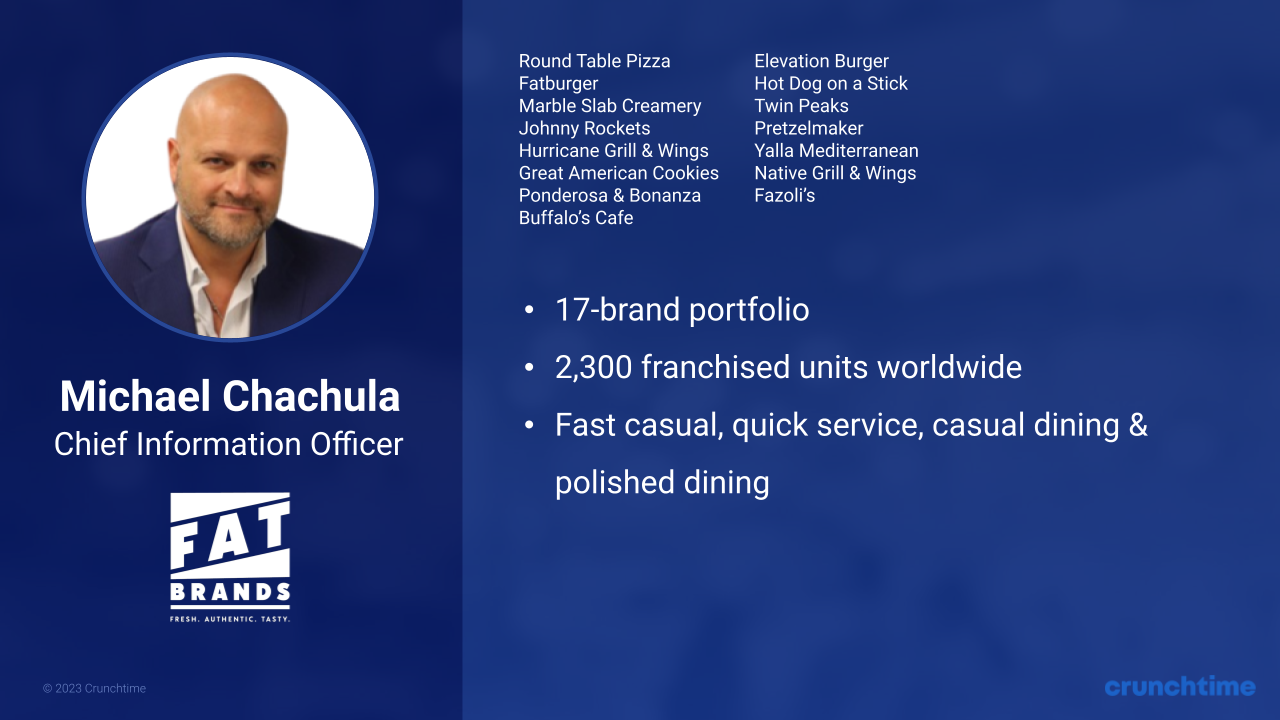 As the candidate pool fills with younger generations, it is important for brands to adapt to meet younger employees where they are, rather than expecting them to totally change for the business. These generations were raised with technology to a degree never before seen, and if the workplace does not have integrated technology, it is likely that employees will move on to a place that does. Using a scheduling platform that can allow employees to see their schedules on their phones is a great way to cater to a younger crowd.
"They always want to know what their schedule is. They want it to be automated. They want it on their phone. 'Hey, I want to be able to take this day off. I want to be able to interact. I also want to see when someone else is working [to see if they can fill my shift]."
-Michael Chachula, Chief Information Officer, FAT Brands, Inc
Not only does using an integrated system entice younger employees, but it also has the benefit of providing more data about the brand as a whole. Often, if one store is having a labor and scheduling issue, more stores are experiencing it too. Having a system that can collect and consolidate data makes it easier to recognize operational issues or opportunities.
"When the scheduling data is together, you have the ability to cohort restaurants of similar volume frequency and in doing that, you can identify brand opportunities related to the use of labor."
-Brian Wise, Chief Operating Officer, Freddy's Frozen Custard and Steakburgers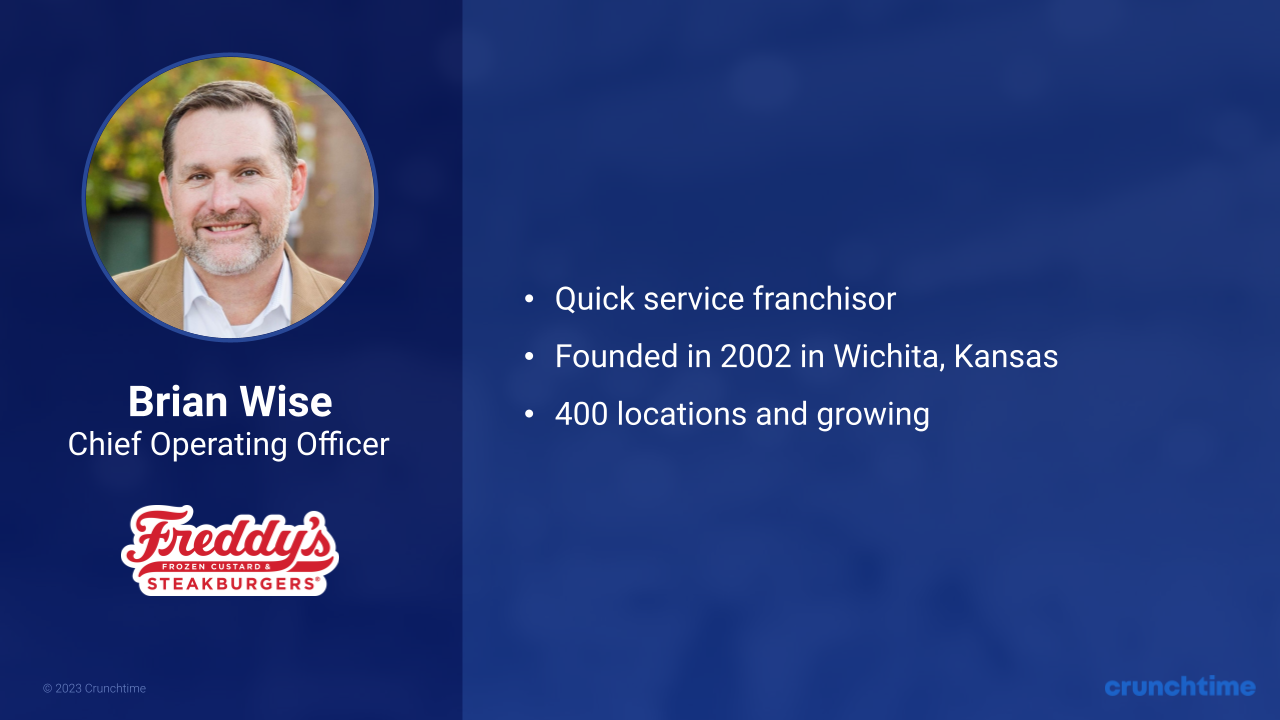 3. Learning and Development: Adaptable tech for the future
As the industry becomes more competitive, restaurant brands need new and improved ways to attract and retain loyal customers. One way to do this is by expanding menu options and customization opportunities. While this is good for the customer, it puts more strain on the restaurant and its employees, with more products in the inventory process and more for employees to learn and remember.
"With the amount of customization that happens nowadays, guests get exactly what want, and they come back more often because of that. But the kitchens weren't necessarily built for that in every instance. And, certainly, our training programs weren't built for that."
-Brian Wise, Chief Operating Officer, Freddy's Frozen Custard and Steakburgers
With more for employees to do, operators are finding value in on-the-spot training, which can decrease the amount of memorization required for employees, while in turn increasing their accuracy and confidence.
"We need context-sensitive training. If you get a task on a task list and it says 'clean the slicer,' and it's your first time ever doing it, then you click a button, and a quick little video comes up and walks you through the steps to clean the slicer. Now, you're not intimidated anymore."
-Scott Scherer, Chief Information Officer, Jersey Mike's
4. Operational Execution: Visibility and communication brand-wide
In order to have optimal execution in-store, upper management needs a reliable way to monitor store performance and to see what is going on inside each location at any given time, especially with urgent issues.
"The old way was you give them a PDF report, you hand it to the owner, and you say, here's what you need to do, here's what you need to fix. And sometimes they have to do it, sometimes they don't. Sometimes they do it but don't tell you, and now you're following up in emails, text messages, or phone calls. So think about the scale of it with a manager responsible for 40 or 50 stores, and they're getting 40 or 50 emails to see if this person remediated a safety issue. Well, with the new software, we're able to send that report to the franchisee and have them remedy it [digitally]."
-Scott Scherer, Chief Information Officer, Jersey Mike's
To improve execution even more, brands can make communication a two-way street. Obviously, those in management need to be able to communicate to store employees, but it can also be valuable to offer opportunities to in-store staff to communicate upwards. Store employees are the ones with the closest connection to what is going on in each store, and giving them a voice can be valuable.
"How easy is it for our frontline teams to get in touch with the brand and identify opportunities to improve or get better? What are those interferences that take a restaurant and make it harder to operate on any given day?"
-Brian Wise, Chief Operating Officer, Freddy's Frozen Custard and Steakburgers
Not only does providing store employees with a method to communicate upward allow for operational improvements, but it can also make employees feel like their voices are being heard and valued when action is taken.
"We've gotten a huge morale boost across the field to address some of these long-standing issues. Giving them a way to communicate directly has been important."
-Brian Wise, Chief Operating Officer, Freddy's Frozen Custard and Steakburgers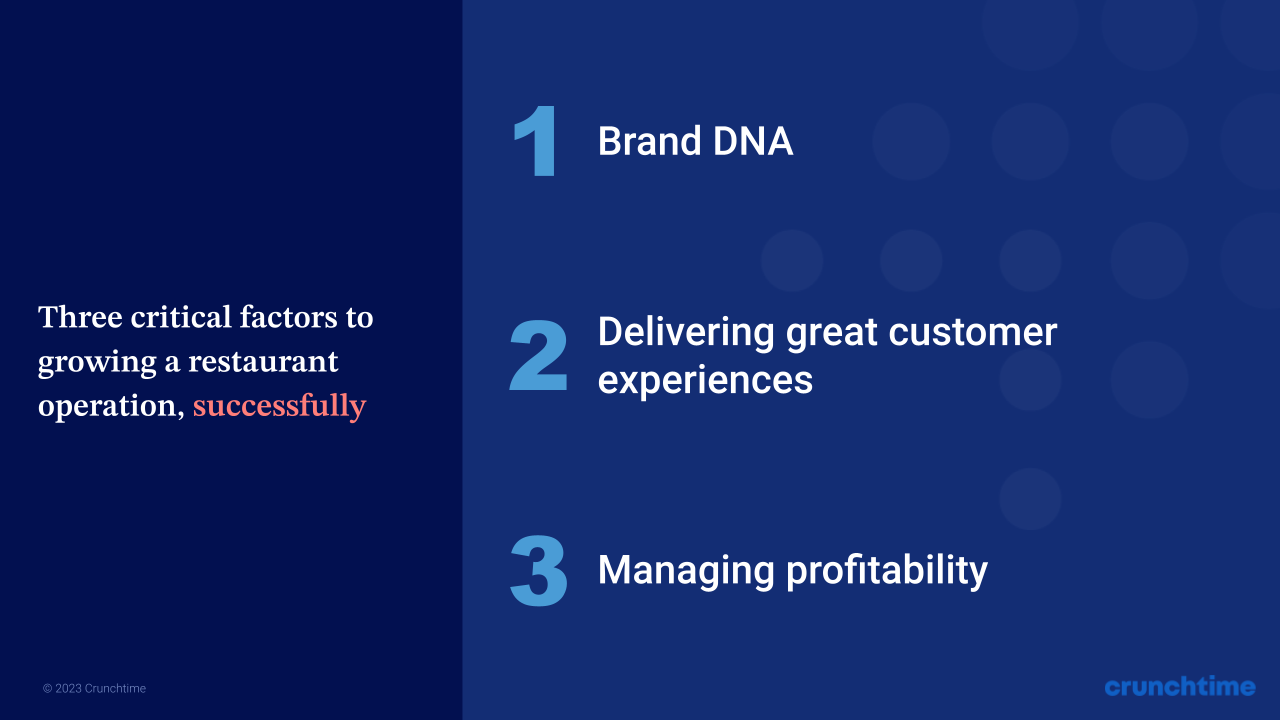 Looking Ahead: Technology will take restaurant brands into the future
Looking into the future, one thing is clear: the restaurant industry will continue to change, and the brands that succeed will be those that use technology to elevate the employee and customer experience while also improving the bottom line.
"It's about having the ability to open up a dashboard and being able to check across all your stores and understand how those stores did as opposed to just what they did. So I, I think as you start looking at technology, it's not just to make the stores efficient, it's to make them successful, and that's the key –not technology for technology's sake, but truthfully, it's technology to drive performance and the success of the restaurant."
-Michael Chachula, Chief Information Officer, FAT Brands, Inc
To learn about how Crunchtime helps tie tech into restaurant operations to increase operational efficiency and effectiveness, download The Restaurant Operator's Guide to Ops Excellence.