Food & Beverage Operations
Labor Management Operations
Analytics, Insights & Reporting
Mobile Applications
System Maintenance & Support
Technology Implementation
Enterprise-ready
Food & Beverage Operations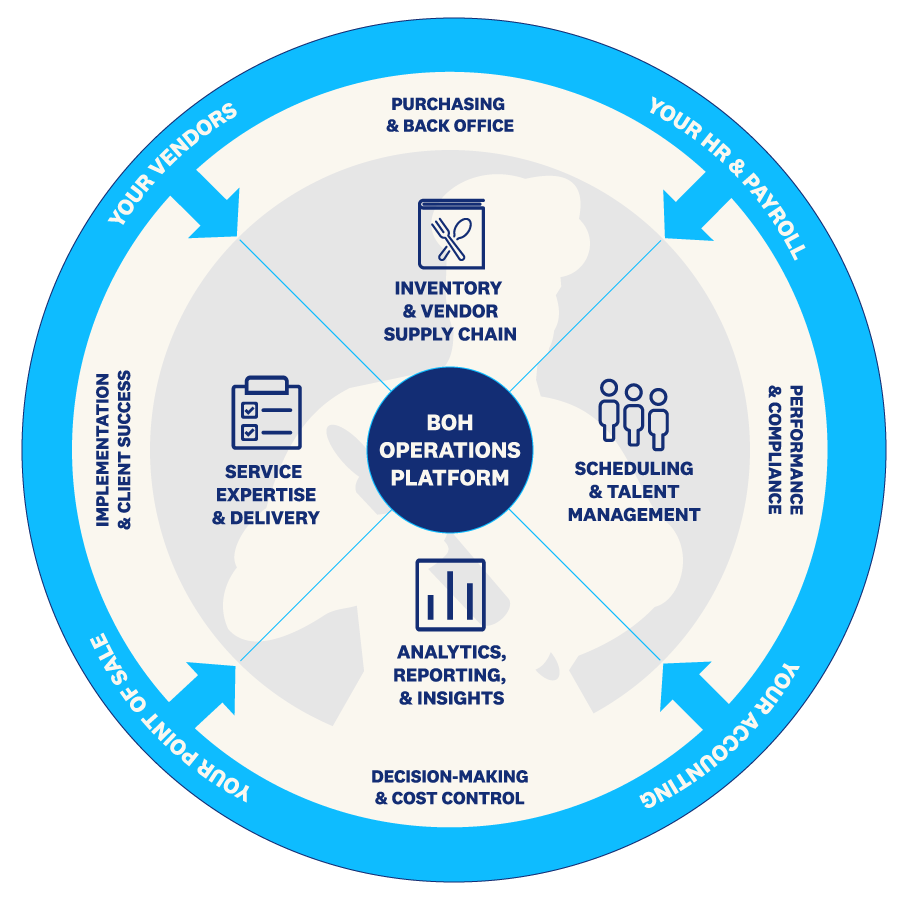 Seamless integration with your existing technology stack, including your existing POS, accounting package, HR & payroll system, and your suppliers for a single source of truth for your entire operation.

Core Food & Bev Operations Features
Core perpetual inventory management application software including ordering, receiving, waste tracking, prep planning and production, blind count inventories, and store-to-store transfers
Effectively real-time integration to POS at check-level detail to support perpetual inventory. Also time punch integration supports real-time labor reporting, planning and analysis
Comprehensive support of LTOs from a forecasting and consumption perspective
Robust menu engineering & optimization
Full supply chain capabilities include vendor management, electronic vendor integration and contract compliance
Sales forecasting at 15-minute detail, including 8 different default forecasting methodologies
Full integration with weather services to assist in forecasting day's results
Mobile Applications
Labor Management Operations
Core Labor Management Features
Ability to load fixed and variable staffing standards to support and generate optimized labor schedules
Labor management includes employee maintenance, labor scheduling and optimization, configurable labor law compliance and exports to payroll systems
Bi-directional integration with POS support uploading employees and schedules to the POS
Sales forecasting at 15-minute detail, including 8 different default forecasting methodologies
Full integration with weather services to assist in forecasting day's results
Fully integrated Manager's Log and Shift Notes
Mobile Application
CrunchTime! TeamworX employee self-service portal is designed to keep the entire team on the same page regarding current schedules, time-off, and communication
Team members can offer up existing shifts, swap shifts, pick up open shifts, update availability and request time-off
Available as a web app or native mobile app for iOS and Android devices
No charge, free download to the employee for the native mobile app
Team members can view and approve time worked and evaluate schedules and shift performance
Fully integrated management workflow for approving all employee requests
Full support of employees working multiple locations
Full audit-ability of all transactions and requests
Analytics, Insights & Reporting
Core Analytics, Insights & Reporting Features
Real time Profit and Loss statements
Enterprise and store-level reporting, including over 70 standard reports, 35 flash reports and 150 KPI's
Configurable dashboards and alerts
Dynamic task lists and checklists
Food cost management, including comprehensive Actual vs Theoretical food cost and labor analytics
Data Warehouse & Intelligence
CrunchTime! BizIQ data warehouse and business intelligence solution, powered by MicroStrategy and Oracle
Over 20,000 metrics provided in the system along with a default library of commonly used reports and dashboards
Support for external data sets integrated into CrunchTime
Users can create their own dashboards, reports, alerts, visualizations, and data cubes using native metrics or creating their own
Ability to publish content using user subscriptions or directly into platform
User profiles includes Power Users, Analysts and Consumer Users
Mobile Application
CrunchTime! Impact - A mobile app that gives you up to 50 KPI metrics to your organization right in your pocket. Includes alerts, single-store and consolidated views. Available on iOS and Apple Watch devices, and as an Android app.
Mobile Applications
TeamworX
Line Check
Impact
Reconciler
Counter
KitchenSync
System Maintenance & Support
Core Features
Tier Level-2 CrunchTime user support
24x7x365 system maintenance
Pro-active monitoring of all environments
Comprehensive Service Level Agreement
SSAE-18 Certification by 3rd Party of all Infrastructure, Operating Processes (development, hosting operations, and support), and Corporate Governance to ensure the highest standards of redundancy, resilience, system performance, and compliance with SLA
Code is instrumented and all SQL performance is proactively monitored to ensure performance is consistent with standards
Customer portal that supports case submission and provides status of all outstanding cases
Customer portal also provides a searchable knowledge base
End User and Technical Documentation, Context Sensitive Help, E-learning suite with over 100 CrunchTime courses, integration with Walk-Me™ Adaptive Learning Platform, and periodic Webinars, Newsletters, and Video learning content
Subscription to quarterly upgrades and interim patch releases
Upgrades are driven by the feedback of our user community with road-mapped customization and enhancements provided at no additional cost to customers
Regularly scheduled infrastructure maintenance to ensure the latest security patches, firmware, and equipment is implemented at our data centers
CrunchTime leadership provides bi-annual 360 review with your company leadership to review and analyze opportunities with usage of the system
Technology Implementation
Core Features
Professionally managed implementation by CrunchTime's client services team
World-class project planning with daily check-ins
Deep commitment to on time, on budget delivery of the CrunchTime solution
On site working directly with your team and unlimited remote support
Full international capabilities including multi- language, multi-currency, formatting and multi-time zone support
Support of an unlimited number of mutually exclusive operating hierarchies
Integration of all transaction sets to financial systems
System has over 900 user group settings so that corporate and franchise entities have great control over who can perform functions and access information in the system. You can create an unlimited number of user groups.
Workflow and exception management for all key processes; leveraging data science / AI for proactive automations of key processes
Enterprise-ready
Core Features
CrunchTime-owned hosting environment at Internap data center
World class equipment and hosting infrastructure with no single point of failure
Equipment, network, and underlying tools are constantly being upgraded to meet the demands of our user community
Single tenanted database server on a RAC cluster using Oracle Enterprise edition
Fully functioning Sandbox in addition to the production environment
Hot Disaster Recovery site with 15-minute recovery point objective and 2-hour return to operation
Integration to key systems including POS, accounting and payroll
Platform enables "above store" users across the enterprise to configure business rules, custom workflows reflective of their business unit.
Supports localization of labor rule configuration at the Franchise Level
Recipe and supplier configuration
Internal "data guard" environment provides resiliency at the database level and enables CT to route queries to those servers to distribute workload and improve performance