Customer Testimonials
May 19, 2021 Ops Excellence: Profitability, Customer Experience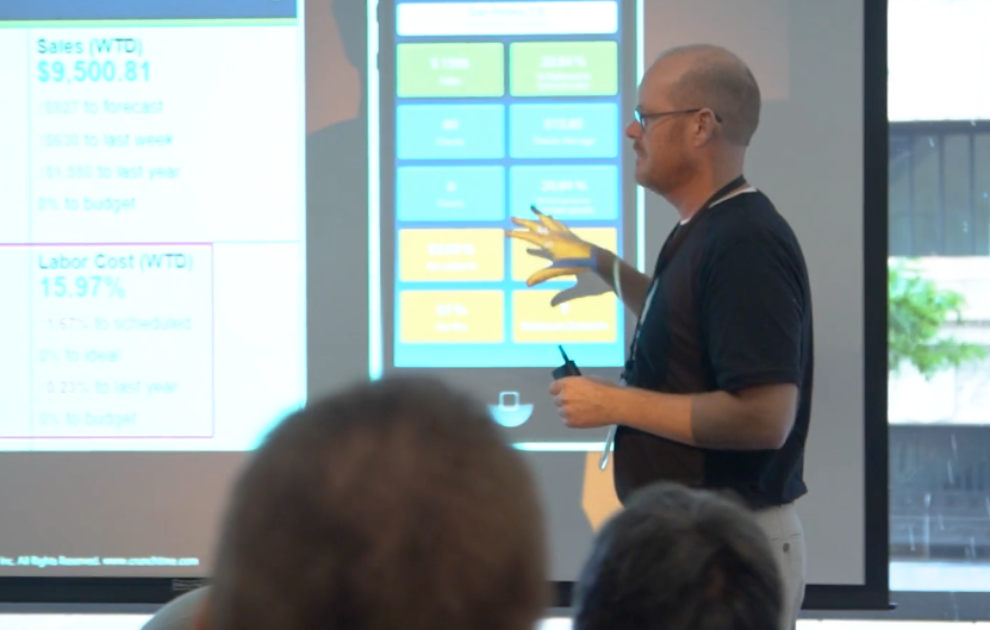 Some restaurant brands have a supernatural ability to connect the dots in their business. They're CrunchTime clients.
Our customer's operators can seamlessly work through back-of-house tasks and serve up flawless front-of-house executions. There's no one-size-fits-all strategy here.
From burger joints to juice bars and CEOs to IT Managers, CrunchTime clients all have one thing in common: They're obsessed with operational perfection.


The easy-to-use Teamworx app has improved communications between restaurant managers and their staff. It remembers each team member's login, and drops them right into their schedule so that they can review their hours, swap shifts with others, or simply talk to the managers. IT Product Manager, Caribou Coffee

---
The Hickory Tavern has lowered its total food inventory level by 25% across the entire brand and has sustained a 3% improvement in cost of goods sold (COGS). CrunchTime helps Hickory Tavern improve operations and save money. Operations Analyst, Hickory Tavern

---

With its deep domain expertise in back-of-house restaurant management challenges, CrunchTime is the perfect partner for us as we continue to add new locations throughout the United States.

Director of Purchasing, Kura Sushi USA

---
I'm excited about the new technology that's headed our way to make me more efficient and productive at my job. I love coming to their Control conference because it allows me to learn new ideas and best practices from my peers. Systems Analyst, Fuddruckers


---
I've been a Super User for five years and attending the Control conference is the best way to share ideas and best practices with other CrunchTime Users. CrunchTime is so adaptable to the unique needs of different brands that I always learn a new approach or technique during the conference and come back to work with a notepad full of new ideas. Senior Financial Analyst, Biscuitville Fresh Southern

---
Now, we can see on a shift-by-shift, day-by-day, week-by-week, month-by-month basis how much product we're using and cross it with how much we're ordering and determine any kind of impact points that we might encounter. Our above-store users and multi-unit operators have the ability to drill down and identify which stores are really winning and which stores have operational challenges or concerns. Labor and Inventory Systems Manager, Zaxby's


We have better stock on-hand dollar amounts, we see better inventory variances on our products. CrunchTime has been a great partner for us. They are very communicative, talking with us each week, keeping track of what we need and how we can resolve it. And just making sure that we're getting the best out of the program that we can. Systems Administration Manager, Zaxby's
---
CrunchTime may never have on-boarded a brand as fast as it did for Macaroni Grill. The integrations were done at lightning speed with every restaurant up and running on the system in three months. VP Operations, Romano's Macaroni Grill

---
The people of CrunchTime help put everything about the system into perspective. They simplify what I need to know so I can apply that knowledge to my everyday role. Regional HR Manager, Concessions International

---
We've found that we've been able to shave significant dollar amounts on inventory and labor costs. Smarter decisions product-wise, inventory-wise, using ideal hours, we're able to create tighter schedules and use less hours than we would have if we were just doing schedules manually. The resources that CrunchTime's provided us, whether it be from a technical standpoint or a support standpoint, they've gone above and beyond with trying to help us. Director, System Administrator, Five Guys Burgers & Fries

---
CrunchTime gives us a powerful solution to create more automation and integration for our back-of-house operations, allowing our teams to focus on serving and engaging our guests. With more accurate and real-time information, we see opportunities to optimize scheduling and reduce food costs. Director of Information Systems, JuiceLand

---

CrunchTime's platform allows our corporate staff and restaurant managers to access the tool at any time, from any device, and from any location. Manager of Operations Analysis, Miller's Ale House


---

We reviewed almost a dozen systems, and CrunchTime was the unanimous choice. CrunchTime has met and exceeded my expectations. We estimate, it will ultimately be a $5 to $7 million dollar benefit to our bottom line. Chief Financial Officer, Au Bon Pain


Our cafe managers love the program – it's easy to use, it's intuitive for them so it makes them much more efficient. They have been able to fine tune their food cost variance in a very short period of time. Director of Food Cost System, Au Bon Pain

A true partnership, they are genuinely concerned with the customer satisfaction and development of the product based on customer input. Chief Information Officer, Au Bon Pain
---
For us the game-changer was their reputation for smooth implementations and outstanding training and support, which makes them a great match for our franchise model. Chief Information Officer, Jersey Mike's Subs

---
CrunchTime! is a great restaurant operator tool. It covers multiple aspects of the business, including cash management, inventory and even recipes. All of which can be handled in one web-based platform that can really help us dial in and manage costs. Founder & CEO, NexDine

---
For each food item, the Actual vs. Theoretical variance should be within one point at Zinburger. Our restaurant managers have a variety of reports they can use to investigate food cost variances. We have the ability to count inventory as frequently as we want to see if the variance is happening all the time or if it can be narrowed down to specific days or shifts. System Administrator, Zinburger Wine & Burger Bar – The Briad Group

---
We were committed to choosing a company and product that matched our "best in industry" niche, and the clear choice was CrunchTime. President, Runza Restaurants

---


We're based in Vancouver, Washington and have 42 locations. We use TeamworX for our scheduling, too. The big upgrade for us has been having the ability for our crew members to go online and put in their availability, put in their requests off, and things like that. It makes it so much easier to maintain, because it's not on the manager to keep it all in their head, like '…Oh, this person needs these days off or that person needs those days off.' Everything is simplified. IT Systems Administrator, Burgerville

---
CrunchTime has met all challenges in our complex operating environment & has been a great International business partner.

CEO, Rostik Group Russia - KFC Yum Brand's International

---

Dome Coffee's Australia has gone a long way to realizing goals of maintaining and improving bottom line profitability of individual restaurant locations by replacing its legacy café management system with CrunchTime!

Chief Operating Officer, Dome Coffees Australia

---


Actionable information gets to the right people, at the right time, allowing us to be more precise in our, more strategic and more proactive in the decisions we make. CrunchTime is helping us drive more profits forecasts to our bottom line.

Food & Beverage Director, Not Your Average Joe's

---


With their client services team and their user community, I love meeting people who go through the same daily tasks that I do. I learn from them as we share ways that CrunchTime makes our jobs easier. It's exciting to know you aren't the only unicorn out there doing your job.

Financial Project Manager, TopGolf

---

Of all the systems we investigated, CrunchTime … demonstrated the most and competency in food cost management. Chief Financial Officer, Lucille's Smokehouse BBQ

---


CrunchTime greatly simplifies the mechanics of Inventory Control for our theatre managers and quickly highlights areas of opportunity. Theatre managers can now quickly focus in on key areas that have the greatest impact on effectively managing the supply chain, reducing waste and improving overall efficiency of the Food and Beverage operations. SVP of Purchasing and Procurement, AMC Theatres

---


We wanted to go with a system that would take us into the future. At any time I want, I can dig in to see where our food cost is and so can my team. CrunchTime has allowed us to dive into our information and receive reporting at an entirely new level that we have not seen. President, Tio Juan's Margarita's

---


At Wendy's Puerto Rico we have been using CrunchTime for a very long time - about 8 years. Our experience has been exceptional. IT Director Wendy's Puerto Rico

---


Implementation of CrunchTime has dramatically improved the ease with which all levels of management can drill-down into the specific components impacting food costs. Vice President of IT, Cosi

---

Switching to CrunchTime was an immediate win. It's so much easier to use and gives us much better data than our previous system. A big part of our comfort level came from our CrunchTime account manager. She's responsible for a big part of our success with CrunchTime. Her knowledge of where everything is and her constant support, both day and night, makes her feel like part of the family. She makes our jobs a lot easier. Technology Operations Specialist, Mary's Pizza Shack

---

The field loves the CrunchTime apps because they are intuitive, easy to use, and the training goes quickly. Digital Operations Project Manager, Snap Kitchen