Restaurant Labor Cost Optimization Explained
Dec 02, 2016 labor operations management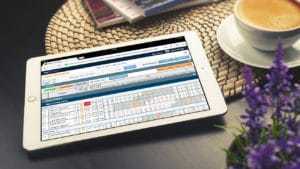 Back office technology solutions optimize labor costs by locating the right balance of staffing requirements-to-sales projections, 24/7.
A solid forecast is at the heart of restaurant labor optimization. This allows you to accurately project the ebbs and flows of your business days. A quality integrated back office system is your key to ensuring optimum labor costs. Here's a look at how it works.
Forecast ebbs and flows
At the core of restaurant labor optimization, a solid forecast is important in order to accurately project the highs and lows of your business. Ideally, forecasts allow for a number of business drivers such as sales, guests, transactions, menu mix. In order to benefit from historical data, forecasts also must factor in any fixed tasks, holidays, LTOs, and other events that might impact the business day. Additionally, it is important to build smart staffing demand templates in order to translate your business drivers into a dependable staffing demand. Lastly, as you create your schedules, consider skill levels, certifications, pay rates, availability, budget information, and labor rules. This all sounds simple, but things are always bound to come up.
Mobility makes the difference
When the work day begins, sales may be off the mark, staff may not be able to cover shifts, and weather might be making an impact. You may be experience an unpredictable LTO, or a media purchase might be having a surprising effect.
All of these factors are where mobility really makes the difference. When you have immediate access to ever-changing intraday sales trends, knowing the availability of your staff can assist your manager greatly in making good decisions in the moment through their shift.
Furthermore, by using their smartphone, tablet, or a desktop, managers may see all schedules, approve any staff requests, and communicate with relevant team members about any shift changes and other important updates. Mobile options also facilitate coordination with team members in order to easily offer, pick-up or swap shifts right from their own mobile devices or computers. Ideally, the manager won't need to get involved unless it is actionable beyond these needs. While this is an awesome feature, and greatly assists in coordinating schedules, there are a few other very important things to consider when optimizing labor costs.
Labor scheduling affects everything - Don't silo it!
Restaurant management systems, or back office solutions, should also include integrated task lists that are created dynamically. These lists will establish responsibility for every core task of your operations. You must not isolate staff scheduling. Every core task in your restaurant has the ability to instantly change the finely-tuned balance of labor scheduling. It is imperative that you can create the optimal conditions to have the right person at the right place at the right time.
Optimizing the team size and quality for every shift is what will set your labor management apart from your labor scheduling. FInding the right size for your staffing needs will reduce costs associated with over- or under-staffing. When you use smart staffing templates, you will be able to coordinate staffing schedules using sales and guest-traffic forecasts, plus historical consumption and traffic patterns.
Top-notch labor management solutions will have Performance Management capabilities as well. These capabilities will allow managers to award top performers as well as be better coaches due to better tracking staff performance, attendance, and completion of tasks.
Now, what about overtime? The best solutions will provide clarity about, and visibility into, overtime in real-time during the scheduling process. Effective solutions will give your management team the heads-up well before snafus have a chance to occur. Relying on labor systems to tell you about overtime violations as they are about to occur will leave you in a tough spot.
Smooth sailing on labor law and regulation compliance
For governmental labor law and regulation compliance, best practices are key. Ensure that your labor management solution will assist you in enforcing compliance with local, state, federal and company labor laws. This is key because no one wants to break laws, minor laws, or overtime guidelines. Predictive scheduling laws - which have gained traction in San Francisco, New York, and Seattle - requires managers to create advance schedules that are more predictable for workers. Even more importantly, the solution must be able to be configured in such as way that it enables the operation to enforce the best labor practices in every location all around the world, and in every language. Lastly, a secure labor solution will provide audit trails for all transactions.
In sum, while mobile solutions for labor management are about shift scheduling apps and can also make sure your employees have an easy way to request time off or trade shifts. More importantly, labor management mobile solutions are mainly about optimizing your workforce to help the company consistently find that perfect balance of staffing requirements-to-sales projections, each and every day.
If you would like to learn more about how back office solution technologies can help your restaurants, reach out to CrunchTime and request a demonstration.