Restaurants After the Pandemic: Tracking US Food Industry Recovery
Nov 23, 2020 inventory management, data analytics and reporting
We are tracking where weekly sales are rising toward recovery and where they are struggling to recover. 
With customer locations in every US state ranging across virtually every foodservice category, CrunchTime has organized charts that show how restaurant chain and foodservice sales are trending across America since the beginning of the COVID-19 pandemic in mid-March. 
US Restaurant Sales by Week
(3/1/20 – 11/22/20) click chart to view larger.
CrunchTime is calculating restaurant sales as a percentage of spend that occurred the week of March 1st, 2020 (the Pre-COVID-19 Benchmark).
The colored bar charts represent the different restaurant industry segments and the blue line tracks total sales compared to the Pre-COVID-19 period.
Restaurant chain and foodservice industry sales for week of November 16 - 22 across all segments is at 80% of Pre-COVID-19 levels.
QSR: 99% (-1%)
Fast Casual: 98% (+5%)
Full-Service Dining: 67% (-5%)
Entertainment Venues: 32% (-1%)
Airport/Travel Concessions: 32% (-2%)


---
Top 30 States: Week-over-Week Performance
(3/1/20 – 11/22/20) click chart to view larger.

Some states, like Washington and Illinois, are experiencing a significant sales % drop from the week prior.
Washington (-11%)
Minnesota (-7%)
Illinois (-6%)
Missouri (-5%)
Michigan (-4%)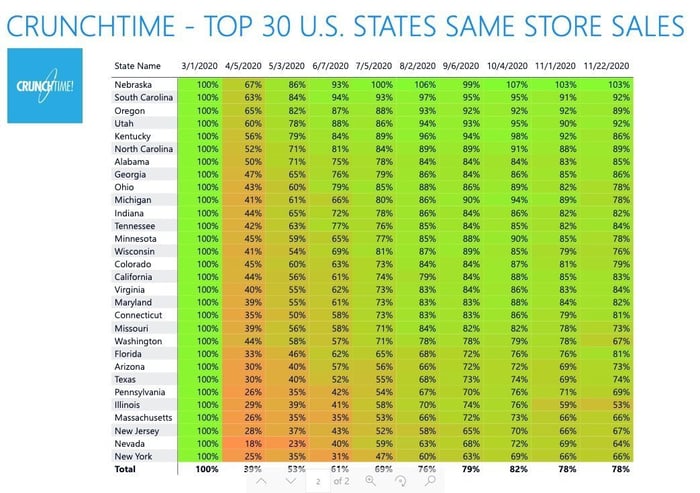 ---
About the Data:
This data shows weekly foodservice sales at chain restaurants in the United States on the CrunchTime restaurant management operations platform across the following segments: Airport Concessions, Entertainment Venues, Fast Casual, Full-Service Dining, and Quick Service.
Sales data includes: credit cards, cash, online orders, take-out and delivery ... all store sales collected from a POS.
Independent (non-chain) restaurants are not included in this sample. Only states with statistically significant number of locations across each segment was used for this data analysis.
# # #
Questions about CrunchTime? Please contact us.
---