The Restaurant Technology Ecosystem
Jun 21, 2018 food operations management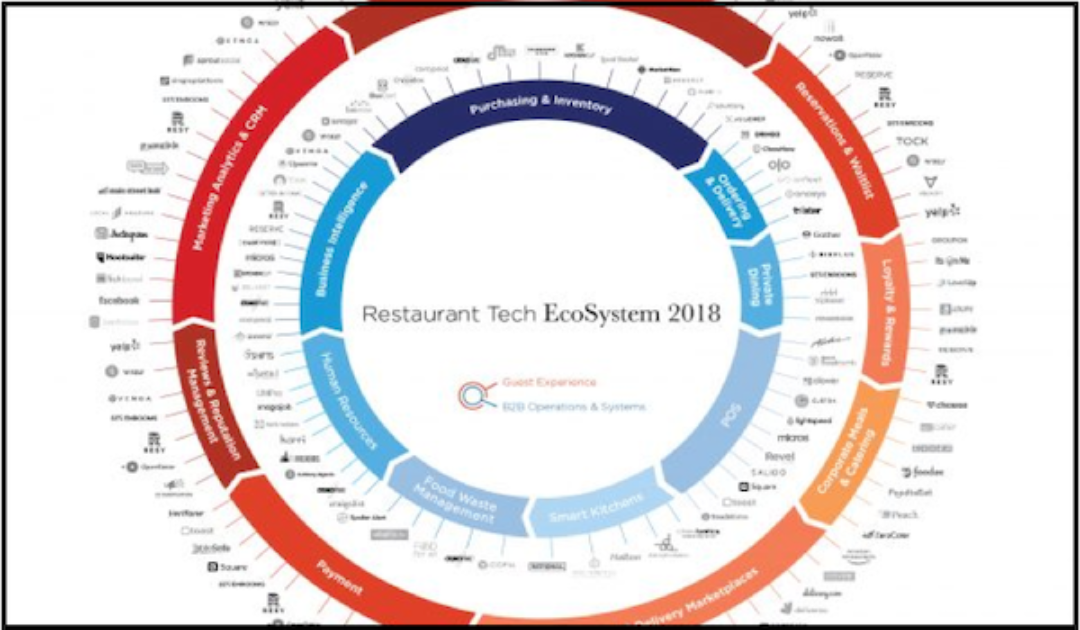 The smart people at The Mixing Bowl recently published an article that attempts to describe key movements and also visualize the many moving parts of the Restaurant Technology Ecosystem. We encourage you to read the article.
With help from TechTable, the goal with creating this industry map "is to help operators visualize the myriad of distinct and overlapping capabilities across the restaurant technology ecosystem."
The ecosystem breaks down the technologies into two primary layers. The outermost layer contains popular technologies that help restaurants with Guest Experience. The inner layer contains B2B technologies that help with restaurant Operations and Systems. You can think of the two layers as Front-of-House (FOH) Technologies and Back-of-House (BOH) Technologies. Here's how their ecosystem maps out the layers:
Guest Experience Technologies and Companies
Marketing Analytics & CRM (16)
Search & Discovery (14)
Ordering & Delivery Marketplaces (13)
Payment (11)
Reservations & Waitlist (9)
Corporate Meals & Catering (7)
Loyalty & Rewards (7)
Reviews & Reputation Management (7)
Operations & Systems Technologies and Companies
POS (11)
Purchasing & Inventory (15)
Business Intelligence (14)
Human Resources (10)
Food Waste Management (5)
Ordering & Delivery (6)
Smart Kitchens (5)
Private Dining (5)
It's important to note that while the map does a great job of making sense of how #foodtech has become such an important aspect for any multi-unit enterprise operation, the map doesn't include every technology nor every technology provider.
The 2018 Restaurant Tech EcoSystem map, while clearly not exhaustive, is meant to illustrate the layers of technology solutions within the front of house and back of house. It's important to note that within several segments of the outer and inner layers you will find a few major technology providers staking claim. For example, within the Guest Experience layer, Resy provides technology solutions for Reviews & Reputation Management, Payment, Loyalty & Rewards, as well as Marketing Analytics & CRM.
Within the Operations & Systems layer, CrunchTime provides services within Purchasing & Inventory, Business Intelligence, Human Resources, and Food Waste Management segments.
Download a high-res version of the map here.
CrunchTime Restaurant Management Software Resources