Workforce Management Requires Labor Optimization
Dec 20, 2019 Labor Management: Scheduling, Compliance, Payroll

Restaurant labor management isn't only about staff scheduling. It's about staff optimization - having the right people at the right stations at the right day-part.
Restaurant managers find juggling weekly shift schedules to be one of the more stressful and time-consuming processes of their jobs. Even top-shelf managers find themselves relying on methods such as using sticky notes, white boards, or kludgy spreadsheets for managing staff info. Time-off requests and shift-change notes can be equally cumbersome to control. It's a big headache coordinating such disparate information while also making sure the restaurant is properly staffed with the right people at the right times.
Restaurant labor is a business challenge with a lot of moving parts. It takes powerful software like an integrated enterprise-class back office solution that's sophisticated enough to understand your entire business to optimize the labor component of your restaurant operations. While lightweight mobile scheduling apps are an important tool, they are only one piece of the solution.
Seven Labor Challenges You Can Solve With a the Right Back Office System:
1. Collaboration - Great communication is the essence of teamwork
2. Silo-Busting - The flow of information, including frequency and cadence, can break organizational silos
3. Mobility - Accessing information outside of the back office, anywhere and anytime
4. Real-Time Access - The closer the data is to 'now', the better
5. Labor Rule Enforcement - Ensure compliance with local, state, and federal labor laws
6. Forecasting Capabilities - Get an accurate sales forecast powers your labor forecasts
7. Integration With Other Systems - Make sure systems connect and 'talk' with each other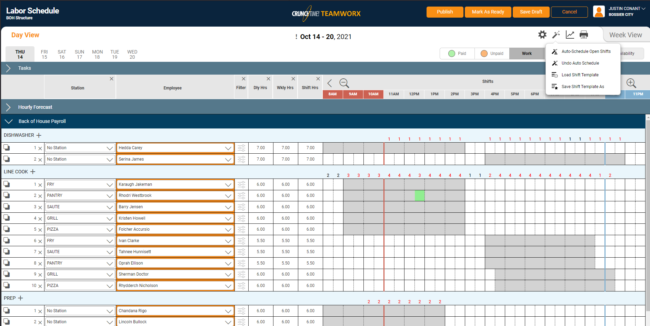 A solid sales forecast is key for labor optimization as it can accurately project the ebbs and flows of each day. Forecasts should incorporate a number of business drivers - such as sales, guests, transactions, and menu mix - in order to glean important knowledge from historical data. It should also account for fixed tasks, holidays, LTOs, and other special events that might affect each business day. Then you need to be able to create smart staffing demand templates in order to translate your business drivers into a dependable staffing demand. Ultimately, as you create your staff schedules, you should be able to see: skill levels, certifications, pay rates, availability, budget information, as well as labor rules. This all might sound straight forward - until the plan goes off the rails.
When the day begins, sales may already be askew, employees may miss their shift, weather might make an impact throughout the day, a LTO may not be accurately foreseen, or a media purchase might have an adverse - or positive - effect. This is where mobility can really make a difference. It can greatly empower your manager to have up-to-the-moment access to sales trends at any given moment. Additionally, having the staff timeliness and availability can help your manager make sound decisions in the moment throughout the shift.
Efficiency increases when managers can use a computer or smartphone to view schedules, review staff requests, and communicate messages to relevant team members about shift openings or other important updates. Mobile platforms also facilitate coordination with the restaurant team so that they can easily offer, pick-up, and swap shifts right from their own devices. This way, the manager does not have to get involved until necessary. This awesome feature greatly assists with streamlining scheduling. Additionally, there are other important aspects to assess when optimizing labor costs.


Don't isolate labor scheduling - It has an impact on everything
An integrated operation solution must also include coordinated, easy-to-change task lists in order to build-in accountability for every core part of your restaurant operations. It is important to center labor scheduling because every key part in your restaurant can affect the delicate balance of ensuring the most effective staffing for your operation. This way, if your ordering system is off and you need someone to get something from the store, or if your daily prep plan did not account for actual demand and the kitchen gets backed up, then you will have team members running around performing tasks that are critical to your operation in that moment (like running to the store), but were not considered in your staffing plans.
The ability to make the best use of the restaurants staff - in terms of size and quality - for every shift is the key factor in distinguishing Labor Management from Labor Scheduling. Correctly sizing your staff will decrease the costs often associated with over and under-staffing. It is ideal to employ smart staffing templates to create labor schedules based on sales and guest-traffic forecasts, as well as past consumption and traffic patterns.https://crunchtime.com/panel/entries/blogEntries/23259-labor-optimization#
Additionally, excellent workforce management solutions will also have Performance Management capabilities. These abilities will allow managers to reward the top performing staff, be more effective coaches by tracking employee performance, attendance, and completing tasks.
What is the best way to address overtime? Ideally, your solution will allow you to see the potential for scheduled overtime well before it happens. If your systems only inform you about OT just before it is about to occur, then you are likely facing increased costs. A well-informed team can make the best - and most cost-effective - staffing decisions.


Navigate regulation compliance and labor laws
Labor law and regulation compliance are key, but often confusing and time-consuming to navigate. Ideally, your chosen labor management solution will assist you with complying with local, state, federal and company labor laws, as well as avoiding breaking any major or minor laws or overtime guidelines. Furthermore, your chosen solution should allow you to enforce best labor practices in every location everywhere in the world – in every language. Lastly, an ideal labor solution will automatically create complete audits for all important transactions.
Learn more about labor management solutions. Contact us here.