How Restaurants Discover Vendor Price Discrepancies
Feb 07, 2021 Inventory Management: Food Costs, Ordering, Prep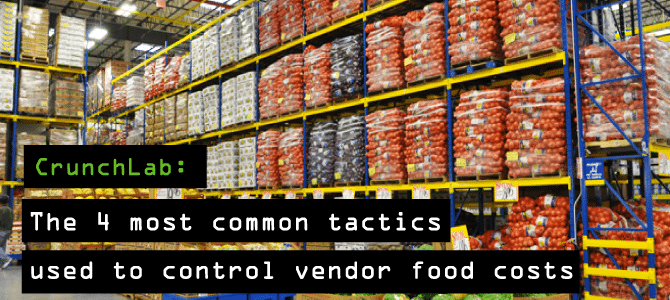 Restaurant chains often employ up to four methods to address vendor product price management as a way to control food costs.
Restaurants in the food distribution industry are extremely aware of, and competitive about, the ebb and flow of prices in the current market. Vendors in the food service industry, similarly to the restaurant businesses they supply, function within very small profit margins. In the case where every dollar counts, it can be challenging to track every vendor's prices - especially when they appear to change constantly. Given that it is typical for invoices to display prices above - or below - the originally contracted price, a restaurant operator must have a clear and effective strategy to manage vendors in order to keep costs aligned with contracted pricing.
Tactics: Take Action
Multi-unit restaurant chains often use one to four methods to effectively manage their vendor product price strategy. They are:
Using a manual approach, the accounting team will compare and contrast invoices to see actual prices vs. contracted prices
Routinely, individual restaurant managers will review prices on invoices against the most current vendor prices
Utilize an electronic system which automatically generates contract-to-invoice price comparisons, alerts, as well as remedies cost discrepancies
The last strategy can be summed up as hoping for the best!
The first method is likely more typical than you might think. It requires heavy-lifting from your office team. With enough quality staff, this strategy can work well - although it though it may prove to be expensive to maintain with consistency. However, it may be worth the investment as any extra costs may be covered by savings gleaned from finding - and solving - significant invoice discrepancies. Unfortunately, this option also leaves a lot to be desired in terms of the potential for human error, especially as the same errors may be repeated over and over again when best practice procedures are not executed.
The second method involves asking a knowledgeable and skilled manager to perform a rote task. Sadly, this option also suffers from the potential for human error. Additionally, success will vary greatly from location to location. Sometimes, it's a great approach, and other times not at all. Consider that it is likely more effective for managers to use their time making the rounds with customers as well as working behind the scenes to improve food production operations, reduce waste, and train the staff.
The third method can be highly efficient if expertly implemented with a restaurant back office software system. These systems will easily reduce food costs simply because they automatically compare what should be paid for products and supplies versus what is actually being paid. Whenever a discrepancy is located, a message is automatically produced which alerts both parties to the need for reconciliation. As a result, a restaurant back office solution is incredibly effective. While the return-on- investment for an integrated back office system can be very high, typically adding 2-5% of food sales to your bottom-line, this method is a big commitment to operational excellence for the entire restaurant operation.
Consistency Counts
Regardless of which method your company employs, it is important to use the same method for each and every vendor order, each and every day. As with so many things, consistency with your method, on every order, is the best key to manage your food costs most efficiently.