Restaurant BOH Franchise Management Software Implementation
Jul 09, 2018 food operations management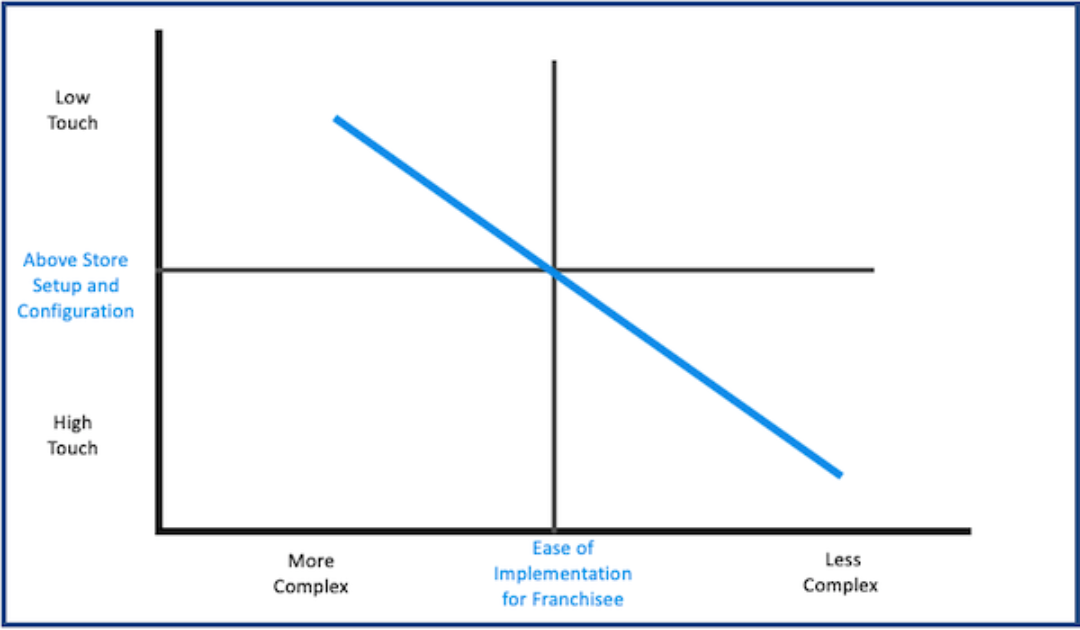 Let's navigate the complex world of franchisee back office implementations
An integrated back office is vital, but the challenges are complex: Franchisees come in all shapes and sizes. There are those with under 5 locations, over 25 locations, perhaps even hundreds of locations of different concepts in their portfolio. At the same time, they all have different levels of technology sophistication, and different levels of operational / financial sophistication, as well. They may be geographically dispersed, too.
So, How do you approach a BOH technology implementation with franchisees? First, remember:
Franchisees come in all shapes and sizes
Regulatory environment is onerous
Competition is unforgiving
Responsibilities of the Franchisor are clear:
It's Your Brand. Grow it. Protect it.
Deliver value to your shareholders
Create value for your Franchise community
What to do:
Create a program that includes a playbook on what your franchisees need to do to be successful
Provide a platform that learns from the common experiences of the community
Hit a Moving Target:

You have got to get smarter and learn from the challenges of regulation, competition, and other changes to the economic environment.
How do you achieve the proper balance between Central Control and Local Autonomy?
Simplicity is the Key:
Ideally you should just sign them up, turn them on, and everything just works.
Your Back Office should be tightly integrated with your tech ecosystem.
Reporting and analysis would provide a single version of the truth.
Information would be available on demand, anywhere, and on any device.
These are not aspirational goals. This is possible, but it requires a great deal of planning, discipline, and hard work.
Remember, there is no right or wrong.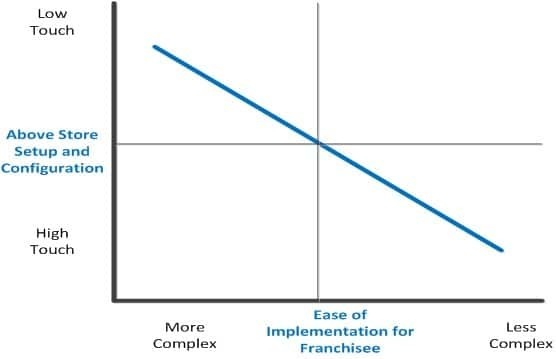 Central Control vs. Local Autonomy:
Go Central, Go Local, or Both?! Here's what a quality integrated BOH system will give you...

Recipes
Employees
Products / Categories
Statutory Labor Rules
Reporting Hierarchies
Vendor Bids / Who can you buy from and at what price
Users / User Group Access
Chart of Accounts
Exports to Accounting / Payroll
Posting Calendar / Payroll Cycle
Business Rules
Location Profile
Vendors / Markets
Staffing Standards
Segregated tables in the DB schema to isolate franchisee data from corporate data.
All user access is centrally defined and auditable.
Leverage Enterprise setup across the franchise community. Data gets entered once and data flows where it needs to flow.
Tight Integration with your Tech Ecosystem
POS (Local/Cloud and Frequency)
Accounting (Common GL Structure)
Payroll / HR / On Boarding
Core Setup / Vendors Integration
Employee Portal, Food Safety, BI, etc.
Single Version of the Truth
Definitions must be consistent with a repository of flash reports, KPIs, and ad hoc reports.
Product standards must be accessible, consistent and enforceable.
Operating processes should be enforceable and auditable through your BOH platform.
Reinforcing the Standards
COGS is COGS is COGS and must be calculated the same way at all locations and the same in all reports.
Historical Data? How Frequent?Standards (recipes, products, labor templates, etc.) should be set up once and accessible as needed.User Experience common across the enterprise. Everything accessible from a single screen!E-learning (reinforce, reinforce, reinforce!)
On Demand, Anywhere on Any Device
Browser and Device Agnostic
No footprint in the restaurant
Native apps with seamless integration available across platforms
No one has time to sit in their back office. SIMPLIFY THE STACK. You cannot responsible for the PCs and External devices across 10, 100's, 1000's of locations/users.
The Bottom Line:
Your back office platform should simplify your ecosystem and enable you to protect your brand!
CrunchTime Restaurant Management Software Resources